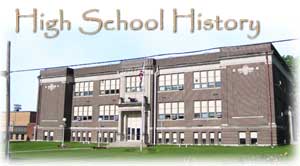 The first Oblong school was a one-room log cabin, built in 1837. There was only one room because few people could afford a formal education. The first building was erected in the east part of what is now Oblong Cemetery.

The second Oblong school was built in 1863 after the first was abandoned. This school had a few more modernized items, such as a stove instead of a fireplace, glass window panes instead of greased paper windows, and other items. Teacher salary was also increased from $25 to $31 per month. Although this building was also only one room, it was better than the first school.

The third school of Oblong was built in 1893. This school had three rooms because the population had finally grown. The building was built for the cost of $3,000 at the site of Dr. Strohl's Livery Barn. It was at this school the first high school classes were taught. The first class graduating from Oblong High School received diplomas in 1896.

The population had grown so much that another school had to be built with bigger rooms. This building, which was to be Oblong High School, was completed in 1907. Even though the population was growing, there were only three teachers. When this building burned to the ground, the classes were taught in the main town hall where other classes were taught when the other buildings were abandoned.
Another Oblong High School was built and a fourth teacher was added in 1914. It cost $40,000 to build this building, but it was much better. Finally the high school was placed on a recognized list by the State Department of Public Instruction.
Oblong High School has grown very much since then. The Oblong High School that was built in 1914 is presently being used. Many improvements such as a new wing with a gym, weight room, and additional classrooms have been made. Computers and landscaping are also some of the recent improvements to the school.
Source:The Blue and White 1915